FSIoffice and SmartChoice by Clover Reduces Carbon Footprint in 2022
FSIoffice and SmartChoice by Clover Reduces Carbon Footprint in 2022
Not only can high-quality remanufactured printer cartridges save you up to 30% in cost they are also very environmentally friendly! Clover Imaging Group announced that its remanufactured ink and laser printer cartridges, including our SmartChoice by Clover brand, received GreenCircle certifications for both Recycled Content and Closed Loop products. Clover is the first printer cartridge manufacturer (OEM or aftermarket) to receive GreenCircle's Recycled Content and Closed Loop Product certifications.
What that means is that using SmartChoice by Clover remanufactured Toner and Ink reduces waste and the amount of plastic that ends up in landfills in your community.
Based on the environmental indicators evaluated, the Clover Imaging remanufactured black and color toner cartridges were found to exhibit lower environmental life cycle impacts compared to their OEM counterparts in all the statistically significant impact categories studied. Sensitivity and uncertainty analyses indicate that the results were robust with respect to key assumptions and are statistically differentiated.
When analyzing the entire life cycle of a Smartchoice by Clover remanufactured black printer cartridge (200891P) compared to the OEM equivalent cartridge (HP CF226A), key findings included:
53% lower carbon footprint
59% lower energy footprint
52% less impact on natural resources
66% lower impact on human health
Smartchoice by Clover offers a sustainable reliable and affordable alternative to OEM cartridges. Our toner and ink cartridges cut your environmental impact by over 50% and all of our products come with a 100% performance guarantee.
Check out the exciting information below that shows just how of a much positive impact Smartchoice by Clover products has had on our environment in 2022.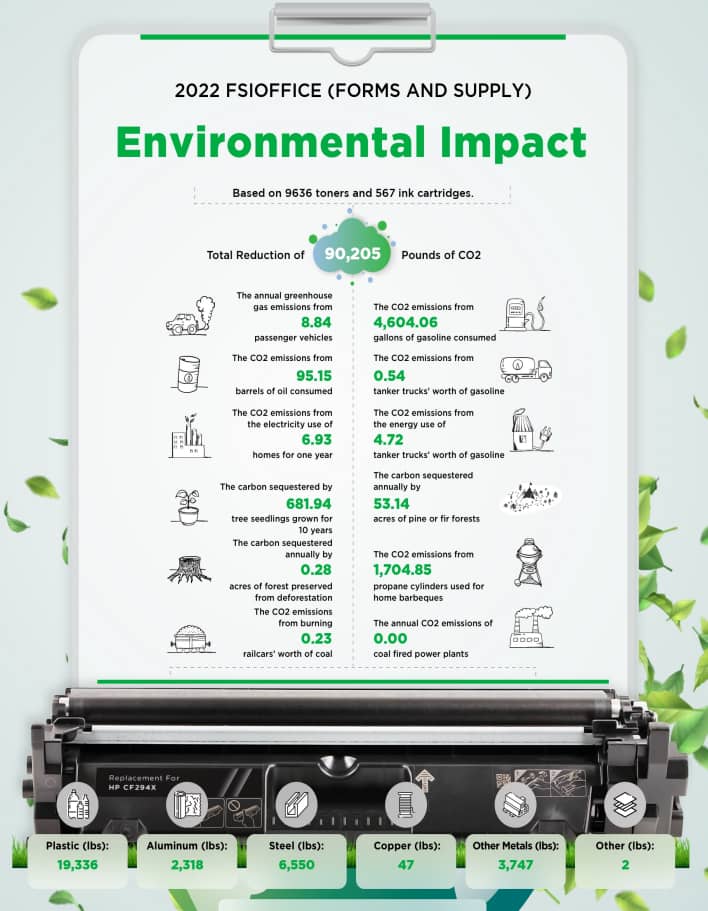 Third-party tests by Buyers Laboratory (BLI) prove that
print cartridges manufactured by SmartChoice by Clover Imaging are as
reliable as the OEM.